| | | |
| --- | --- | --- |
| Karsten I. W. Kunert | | |
Home: Exhibitions: "American residency"
American Residency
Space 12 Galery
New York
October 22th till November 27th 1999



Joseph, Matthew & Maria





American Heros and Little Tom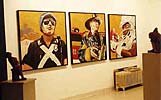 "Afro, Indio, Eskimo- the victims of Northern America"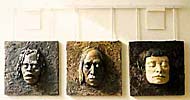 "Drinking woman"

"Cold and lonely"


"Armed amors"
Three football player are shown as a bunch of limbs, helmets, protection dresses and the ball. The faces are covered in action and by the ball, not visual at all to dehumanise the figures and pushing them to an animalistic matter. It's the American symbol, down here on the playground he is turning into an carton in tightly pens, large shoulder pads, the little helmet with the muzzle. An homoerotic orgy under the cover of sport's, the hyper masculine, monkey like fight machine man, the warrior, pacesetter, claim marker, the symbol for "The American", shown thru the way of behaviour, the ritually communication inside the group before and after the attack. The petting, embracing, jumping onto another places those "Men world" in contrast to the preferring of physical (body) distance and puritanical American society.






Top of Page | Home: Exhibitions: "American residency"