| | | |
| --- | --- | --- |
| Karsten I. W. Kunert | | |
Home: Exhibitions: Hidden Beauty
Hidden Beauty

Lokayata Gallery,
Hauz Khas Village,
New Delhi, India
April 11th till April 20th 2001


Prolouge

I was born rich,

even though my parents were not wealthy.

I had a happy playfilled childhood,

grew up in peace and well protected.

I never felt hunger longer

than a half hour before my next meal.

I never had to earn money

before my 18th birthday.

I went to school.

I found a job.

I got 7 years of higher education

which didn't cost me a dime.

I was given time

to discover my abilities.

I was judged on my skills and character,

not by my cast or heritage.

I traveled often, to many countries

and had broad horizons.

I was born a rich man!



It is only the luck of the draw, the spinning wheel of fortune which determines where we shall be born.


Perhaps the West likes to look at India's poverty
but I saw the richness too.
As a visitor here, I am amazed
and astounded by the contrasts.
Behind the cliches and the Taj Mahal,
beyond the glamour of Bollywood movies,
beneath the unreal and the exotic,
I have found what I am searching for.


So I drew the real faces, carved by the hard work of suvival and I had fun
and frustration with the wild and innocent children;
the undisciplined guerrillas.
I met the beautiful woman, mother of seven kids.


The shortest way to it was there; at the end of my street, next to my car window, in the middle of the intersection and the smog.


It is covered by the dense ivy of daily life, jostled by the crowds, huge and ignored, too close to be seen. All this hides the beauty.


Karsten I. W. Kunert


more information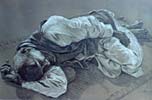 Top of Page | Home: Exhibitions: Hidden Beauty