| | | |
| --- | --- | --- |
| Karsten I. W. Kunert | | |
Home: Installations: Helmholtzplatz
| | |
| --- | --- |
| Mobile Berlin, Helmholtzplatz | |
| | |
| --- | --- |
| | Wind sculpture "Searching for tracks", Berlin, Germany, Prenzlauer Berg, Steel, PVC glass, concrete, total height 4¾ yd, width16½ ft, Competition of the city of Berlin, Quarter- management Helmholtzplatz, 2001-2002 |
The basic idea for this wind sculpture for the Helmholtzplatz quarters aimed on the creation of an optically demanding, tall mobile sculpture, with a strong connection to the location and an active inclusion of the inhabitants and users. Through its setting it should make aware of the surrounding environment and should lead back to the square.


At the beginning, Kunert was searching for a symbol, which ties the people who are living in this area closer to their living space, a sort of "homeland mark". The tree as a symbol was selected as a starting point, and in the use of a pole as a trunk, around its upper end a "crown" is arranged it out of 9 large, horizontally turning sails, powered by the wind. These sails became colored handprints by the inhabitants, especially of their children using the playground near by. Short words, initials and commentaries are now the pattern in three colors on the sails transparent surfaces.
The ground of the sculpture around the pole was converted to a width16½ ft diameter circle like a tree disk. In June 2002 around 400 footprints, each with initials next to it, were placed into this bottom disk, as the concrete was soft.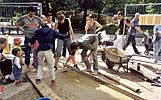 It should associate the signing of tree bark (lovers initials) and hand prints on Sunset Boulevard made by Hollywood stars. The foot sign as an important measure scale for children at their growth progress, the title "Searching for tracks" finds here its largest counterpart; a stimulus to the return. The sculpture in the optical axes of two streets and the central location on the place causes through its quiet turn movement and its gentle style. In close up view, the detail wealth encourage to watch and study.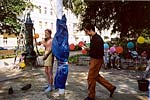 Top of Page | Home: Installations: Helmholtzplatz