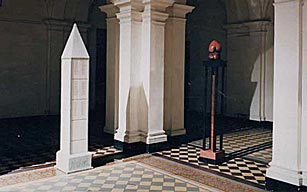 "Circle", Ceramic, tiles with silk screen print, zinc plated steel, a water pump, 88½ x 21½ x 21½ in., 1996




Placed in alternating fashion on the classically- styled obelisk are the names of those who have died or were born in August 96 in Erfurt (month of death and living town of the father).
Water runs from the top of the obelisk down all four sides into a small pool at the bas and then is pumped back to the top. The water as an element of life represents optically and acoustically the cycle from birth to death, the water streaming over the 512 names accentuates their mortality. The demographic arrangement of the names recalls the memorial markers (LIA soldiers memorials) in communities and churches.