| | | |
| --- | --- | --- |
| Karsten I. W. Kunert | | |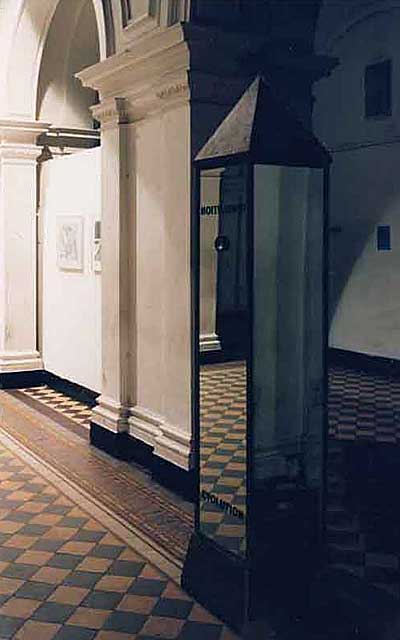 "Evolution- Involution", Obelisk, Steel, terrazzo, mirror, PVC- foam, light, a motor, 26 x 91 x 26 in.




The flat sides of the obelisk are mirrored; the top and the base are made of terrazzo stone. The front side is engraved, in the lower regions is written the word "Evolution". At eye level is a circular viewing hole, above which is engraved the word "Involution", in mirror script.
By looking through the hole into the interior the viewer sees a seemingly unending space (through the quadruple mirror effect) in which the heads (silicon molded) with closed eyes slowly are turning each upon its own axis.
The obelisk represents the relationship between evolution and involution, i.e. the development out of oneself and the re- development of the individual through the relationship of the exterior side mirrors, which reflect the outer environment and the closed interior space, which is a signifier of personal re- development. The rotating heads with closed eyes optically represent the continually shrinking realm of personality, apathy, and the self- imposed isolation.